Boost Your Teen's College Admissions: Why Strong Writing Skills Matter
Writing is an essential skill that can benefit you in many ways. If you're a student looking to get into college, having great writing skills can increase your chances of success. At its core, writing is a way of communicating with the world around us. And the good news is, with practice, anyone can improve their writing skills.

Starting early is key. Even as early as freshman year, writing should be a part of your daily routine. Just a few hundred words a day can help improve your verbal and communication skills, which will benefit you throughout high school, college, and beyond.
Writing Improves Communication Skills
Writing helps you become a better communicator. By practicing writing, you'll become more comfortable expressing your thoughts and feelings. This will be especially important as you get older and start to communicate more through public speaking and other forms of expression.


Writing Helps Students Retain Recently Learned Material
Writing also helps with retaining information. Studies have shown that writing things down by hand can help your brain better remember what you've learned. So, rewriting what you learned at the end of class can be a great way to reinforce material, especially as you begin preparing for the SAT.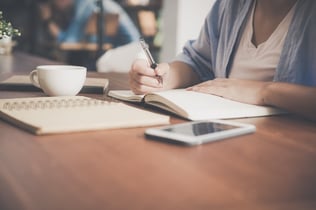 Writing Helps Organize the Mind
Writing can also help organize your thoughts. With all the activities and responsibilities that come with being a high school student, it's easy to feel overwhelmed. Writing can help you take your jumbled thoughts and turn them into concrete plans or just simply vent your daily frustrations in a healthy manner.


Writing Encourages Imagination and Creativity
Writing is also a great way to explore your imagination and creativity. Free writing can help you come up with new ideas and solutions to problems. Plus, having a unique and distinct voice in your college admissions essays can help you stand out in a sea of applicants.


Writing is Essential for Self-Exploration
And finally, writing is an important tool for self-exploration. It can help you understand your own experiences and thoughts, and prepare you for the kind of self-reflective writing required for college essays.

So, start practicing your writing skills early. It will pay off in the long run, helping you become a more thoughtful, articulate, and analytical person. And if you need help with your college application process, don't hesitate to reach out for assistance. You've got this!
Contact us for college admissions assistance to put you on the right path to success.
Need help getting started?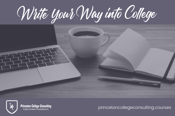 Want to ACE your Personal Statement?
developed by the founders of Princeton College Consulting