Show and Tell: Let Your Character Do the Talking in College Apps
Picture this:
It's the end of August and you've finally received your much anticipated school schedule. You scan the list hoping to see some classes you know your friends are in or hoping to have earned a slot in that AP you'd worked so hard to get into.
But then, tragedy strikes, you see your elective choice: Public Speaking. It was the very last elective you asked for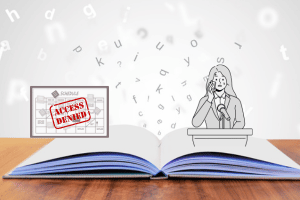 out of all of the available options. You hate public speaking! The idea of coming up with speeches alone sounds terrible, but having to stand up in front of your peers and deliver it in real time makes you want to throw up.
When you finally get home and show your parents, they encourage you to go through with it; To take Public Speaking. "What?! Absolutely not!" you think to yourself. "They must be crazy. There's nothing I could benefit from taking a public speaking class."
Then, your mom turns to you and says, "It'll be fine! It builds character!"
We've all heard that line; before facing a difficult situation or after encountering a unique challenge someone has inevitably said that having perseverance through these tough or uncomfortable experiences helped us to build the strength of our character.
For the university admissions officer responsible for reading and evaluating your application for their school, your character strengths, or positive character traits, are invaluable insights into each individual applicant. These insights help the admissions committees understand who you are and how you became that way; what you value and how you might benefit their campus. Essentially, it not only helps them understand what type of person they would be inviting to campus if they accept you to their institution but also allows them to understand how you stand apart from other applicants.
Unfortunately, however, there are no questions that say:
"Check all that apply:
Honest
Curious
Empathetic
Generous
Etc."
So, how do you showcase your character strengths and traits in your college application? Instead of checkboxes, your character is shown in a number of other sections that work together to build a picture of who you are and what you'll bring to each campus.
UNDERSTAND & DEVELOP YOUR CHARACTER STRENGTHS
Before you can even start thinking about how you're going to talk about all of the wonderful character strengths that make you who you are, you first have to figure out what your unique strengths are and then work to develop them.
What are some of the descriptive words that describe who you are? Are you thoughtful? Are you dedicated? Are you passionate? Are you compassionate? It's often helpful to think of how your friends or family would describe you. Or, better yet, ask them what words they would use to describe you!
You can also think about who you WANT to be? Do you want to be an empathetic person? Do you want to be a self-motivated person?
Just like Liam Neeson in the movie Taken, think of your character strengths as your very particular set of skills. And, just like any other skill set, like riding a bike or learning how to play saxophone, it's important to hone your character strengths through repeated experiences. Seek out experiences that allow these character strengths to prosper. If your character strength is perseverance, seek out challenges. If your character strength is kindness, seek out ways to help others. When it comes time to put your university applications together, you'll have a plethora of experiences that highlight your positive character strengths that you can use in different parts of your application.
Which parts of the application actually showcase character? What are the best places to talk about it? Great question, I would love to tell you.
THE PERSONAL STATEMENT ESSAY
Your personal statement essay, better known as the CommonApp essay, is one of the best places for you to showcase all of your wonderful qualities. Here, you get to tell a story not only about who you are but also how you became that way. You can talk about any of those experiences that built character – the trials and tribulations, the difficult conversations, obstacles that you didn't expect, and the situations you knew were going to be challenging yet you went through with them anyway. The personal statement essay is your chance to speak directly, using your own words, to the admissions committees. To show them, through the story of this experience, exactly who you are.
THE SUPPLEMENTAL ESSAY(S)
More direct than the personal statement essay, the supplemental essays require you to answer a direct question created by the office of admissions that you answer specifically for each institution. As such, the supplemental essays are also great places for you to insert your character strengths. In the supplemental essay sections, you will often encounter questions such as "Describe an activity," "Why do you want to attend our university specifically?" Or, "How has your background or experiences developed your perspectives?" These all create the perfect place for you to showcase your character strengths. You can talk about activities you've elected to take advantage of and what you've learned about yourself or how you changed in the process. You can talk about how the university's mission and values align with your own character strengths and give an example of how you've already begun living those out in your own life. You can talk about how your cultural background or identity played into the development of your character strengths and then highlight a time or two you've had to utilize those strengths for something positive. There are numerous unique ways you can work your own character strengths into each essay question you answer.
YOUR EXTRACURRICULAR RESUME & ACTIVITIES
The activities you choose to participate in and organizations you elect to be involved with can also work in your favor. A college admissions officer can glean your character strengths by evaluating how you've chosen to use your time. Do you have multiple community service opportunities listed on your resume? They'll be able to see that you are compassionate and empathetic. Have you started your own company? The officer reading your application can see that you're entrepreneurial and self-motivated? Has your artwork been featured in a showcase for which you were selected? The committee will understand your passion and dedication to your craft. Each of your activities provide a window into your character.
LETTERS OF RECOMMENDATION
Remember when we talked about asking your family and friends to describe you to determine what your character strengths were? Similarly, what your teachers, counselors, coaches, mentors and advisors say about you in their letter of recommendation is one of the best ways for the universities to understand your character. While you might not be the one writing these letters, you actually have a lot of control over what is written. Your choices and actions in the classroom, on the court, or wherever else you may be during the time your recommenders have known you, help them to determine what they will write about you. Are you helpful to others in your science lab? Are you the first to volunteer to lead a group for extra practice in Jazz band? Do you persevere in robotics club when your code doesn't work the first time? The choices you make through all of these challenges provide material for your recommenders to use when they are writing your letters of recommendation.
Your character is one of the most integral parts of your application. It is woven into each section, from the essays, to the activity list, to the recommendation. It is your unique combination of character strengths that make you who you are, who set you apart from other applicants, and that make universities want you on their campus. As you work your way through high school, take inventory of who you are and who you want to be. Then, show up as that person everyday, making decisions to help those character strengths shine.
Princeton College Consulting is an educational college consulting firm providing concierge college admissions assistance. To get direction on how to write a great application essay, reach out today!
---
What's your College Admissions Index? Use our free College Admission Calculator to gauge your chances of admission to specific colleges.