How to Get the Most Out of Your College Visits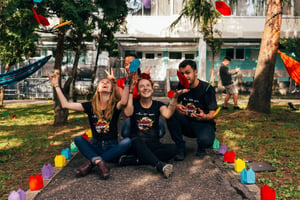 Here's a college admission tidbit for you - college visits do more than you think. Sure, they help you get to know the college in person and guide decisions on which colleges to apply to, or which offer to accept. They can help you get a sense of what your life at that college will look like and whether you can see yourself being happy and successful in that environment.
But the greater value in college visits lies in its power to 'demonstrate interest'. Colleges across the board are concerned about their yield rate and are more likely to extend admissions to applicants they are confident will attend. Taking the time to plan a college visit signals to the committee that you are in fact keen on being a part of their student body.
So for yourself and your admissions chances, it's almost always beneficial to visit a college before choosing to submit an application. Unfortunately, many student do not fully take advantage of their time on campus.
Here is a checklist of things to do during the visit in order for you to truly make the most of it.
The Academic
If you already have your heart set on a specific field of study, then research the college's offering in that area ahead of your visit – look at the ranking of the whole college, determine if the programs offered in the area of study or major are rigorous, well-recognized and have any unique features. On the flipside, if you're still getting a feel for what you'd like to major in (like most other incoming freshmen), then look into the quality of their advising services, the availability and breadth of potential programs you may be interested in, the exposure pre-requisites allow for, and how difficult it is to switch majors. Once there:
Interview with an admissions officer

– in addition to further demonstrating interest, if done right, you might impress the officer enough to remember and advocate for you, or perhaps get some insights on their specific admissions process

Participate in a group information session at the admission office
Sit in on a class, or multiple if time allows it

– get a feel for how classes are run, are students given opportunities to voice opinions/ask questions? It's also a great experience to bring up during an interview to show that you're truly vested in your future

Meet a professor who teaches a subject of interest

– this will also be a great talking point during interviews or to bring up to your school counselor who's writing your letter of recommendation, or to reference in essays

Talk to students to get their opinions on the quality of education – classes, professor, rigor of curriculum
Get specific information about the course load within your field of interest
The Campus
Explore as much of the campus as possible. Get a feel for what student life looks like. See if this is an environment you can see yourself thriving in. In addition to the academic aspects, does the campus offer opportunities that support your personal lifestyle? What will commuting look like? Really think about what your life will look like there on a day-to-day basis. You're there to learn, but it's not just about that.
Take the campus tour (no-brainer, right?)
Check out the residence halls, and if possible, stay a night
Visit all the main facilities – library, dining halls (eat lunch there), fitness center
Talk to current students about popular hang-out spots for socializing and studying
Ask about campus safety (and the surrounding area)
Wander around the campus freely and just explore, maybe you'll find some hidden gems
Check out the surrounding area – you're not going to be spending all your time on campus after all.
The Culture
No matter the quality of education, the college culture will inevitably play a big part in shaping the individual you become over the course of your four years. This aspect can be hard to assess, but try to tune in as best as you can to what's happening on campus and how current students feel about the college.
Find out about the list of active student associations

– look into brochures at student rec centers, the website, student publications, or ask the campus tour guide

Look into what kind of student-run activities happen year-round
Browse through both student newspapers, campus blogs, and student publications
Listen to the college radio station
Find out what efforts the college puts into promoting diversity

– what does the student body race breakdown look like? Are there associations or events promoting diversity? Do students mingle with those of other backgrounds and cultures?

Talk to a few current students – ask them about what their daily lives look like there, ask them about the ugly – is there anything they wish they knew before attending?


While it is important to get as much as you can out of a college visit, don't forget to enjoy yourself. Remember, the point is to get a feel for what your life will look like there, so make sure to get all the information you came for, while also letting go and immersing yourself in the environment.
While college visits can make a big difference, it's only one part of the puzzle. If you're ready to dive deeper into your college application, check out the guide that our college admissions experts put together to help you navigate all the criteria admissions committees look at.