Partnering with Chinese School of Plainsboro for a 3-part series "Getting Ready for College" with Peter Tilles
September 26, 2023

7:00pm

at

Tigerlabs

Co-Working Space*
Here's what you'll learn...
The 3 key questions any admissions committees will consider when evaluating their applicants

Four insights that will help craft a successful personal statement

The secrets for success in life and the college admissions process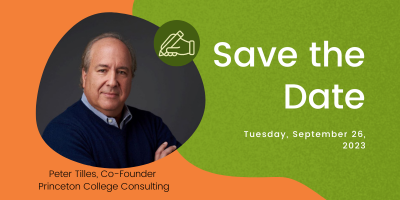 Getting Ready for College Application Essays
What it REALLY means
If you have ever attended an information session at a college, you probably heard presenters say that they follow a holistic admissions review process where they look at the whole person. That is helpful context but it still is not specific enough to be actionable.
For those of you who aspire to attend more selective colleges, the earlier in high school you understand the specifics, the better positioned you will be.
During this presentation, Peter takes a detailed look at what college admissions offices are REALLY looking for in your college essays—at an actionable level.
*Seating is limited so be sure to register to confirm a seat (and to receive a copy of the presentation).
Write Your Way Into College
Secrets of a Successful Admissions Essay
Register

NOW

for Tuesday, Sept 26 at 7pm

(for confirmed seating and a copy of the presentation)
Write Your Way Into College: Secrets of a Successful Admissions Essay
Co-sponsored by Tigerlabs
*Tigerlabs is a vibrant coworking space, where productivity meets community. Located in downtown Princeton, NJ, our thoughtfully designed workspace is the perfect environment for freelancers, startups, and professionals looking to thrive. With flexible seating options, high-speed internet, meeting rooms, and an inspiring atmosphere, you'll have everything you need to bring your ideas to life. Join a diverse community of like-minded individuals, collaborate effortlessly, and take advantage of our curated events and networking opportunities. Whether you're a creative, an entrepreneur, or a remote worker, our coworking space is here to support your journey towards success.
Want to learn more? Drop us a note (info@tigerlabs.co)
Who is Princeton College Consulting?
Princeton College Consulting is more than a college admissions consulting company. We understand the power of human connection when it comes to learning, personal growth and development. Learning becomes truly effective when we have someone by our side who can provide strategic guidance, while also teaching the critical skills that will enable us to maximize our experiences, think more deeply and to reveal and express who we are. These are essential elements of any selective college admissions process.
We believe in tailoring our services to each student, recognizing their individuality and unique traits. We take the time to understand student's aspirations, strengths, and ambitions. With this knowledge, we work closely with them to develop their personalized story that highlights their distinct qualities that will enable them to stand out.
Our PCC counselors are industry veterans with over sixty years of experience navigating the intricate world of selective admissions. They possess insider knowledge and understand the nuances of the admissions process. Leveraging this expertise, we guide our students through every step of the admissions journey, ensuring they are differentiating themselves so they will have a competitive edge.
Our commitment extends far beyond their admissions journey. Yes, our goal is to equip students with the tools and abilities that will unleash their potential and set them up to achieve best results, but it is also to help prepare them for lifelong success!