Randi: Biology/Pre-Med
Admitted to Duke, Georgetown, UNC Chapel Hill, Boston University BS/MD and Penn State University - Jefferson College of Medicine BS/MD
We met Randi at the end of 9th grade. Her goal was to attend a top university, potentially enroll in a combined BS/MD program, and to become a physician. We worked with Randi over 3 years through our Early Start Comprehensive Mentoring and College Applications process.
Randi's application positioning:
The Empathetic Future Physician – Preparing herself for a career in medicine through research, service, and leadership
Extracurricular Activities
Center for Talented Youth Program- Johns Hopkins University
State Governor's School in the Sciences
University Level Student Scholars Program: Isolated DNA Sequences for publication in NCBI Database
Conducted research on the effects of synthetic sweeteners on the neurological system
Physician Shadowing: Shadowed Hemato Oncologist, Neuro Oncologist, General Surgeon, and Interventional Cardiologist
Secured multiple research certifications in: Good Clinical Practice, Transport of Dangerous Goods, Electronic Data Capture
EMS Volunteer
Hospital Volunteer
National Honor Society
Captain: Varsity Tennis Team
President: Toastmasters
Secretary: Key Club
Co-Captain: Math League
Student Council
Library Volunteer
Tutor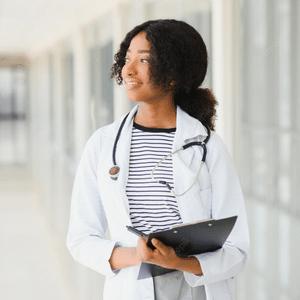 Randi's primary objective became earning admission to BSMD programs which have admissions rates below 5%.
Randi clearly had the raw intellect to accomplish anything she put her mind to, but lacked the maturity, sophistication, and experience beyond the classroom to make her a viable BSMD candidate.
How did

Princeton College Consulting

help?
The overall counseling process started with two questionnaires that we had both Randi and her parents complete.
We paired Randi with a counselor that had years of experience guiding students through admissions at highly selective colleges and BSMD programs.
We developed a detailed Profile Analysis report, including her baseline and potential College Admissions Index (CAI) which establishing her probability of admission to colleges of varying selectivity.
The analysis identified her strengths and where she had opportunities for improvement across each of the different admissions factors, as well as strategic recommendations for achieving her stated goals.
We formulated a 3-year curriculum plan for Randi including courses that she should take outside of school.
Standardized Test Planning
At the outset of our relationship, we administered an SAT/ACT diagnostic in order to determine which test she was better suited for.
Based on her diagnostic and target score, we determined the optimal testing and preparation schedule.
We matched Randi with an exceptional tutoring firm who was able to discern specific concepts that were giving her the most difficulty and through focus on conceptual mastery allowed her to transform weaknesses into strengths.
With the appropriate planning and preparation, we were able to help Randi complete the SAT by the end of 10th grade, leaving time to focus on her other activities going forward.
We built a balanced initial college list of colleges for Randi at the end of 10th grade once we had two years of grades and test scores, while taking into account all of the other quantitative and qualitative factors that come into play in the admissions process.
Once we had an initial list of colleges we provided a structure for evaluating schools and taught Randi how to conduct and document her research in order to help her begin to form opinions, positive or negative, about each of the schools that she was considering.
We also provided a structure for documenting her research that would be important in helping her to craft her supplemental essays and to prepare for her undergraduate interviews.
Using her documented research, through discussion we were able to help Randi narrow her list of schools down to a balanced list of those that Randi and her family felt would be a great fit for her.
Because Randi was applying to BSMD programs, most of which do not offer Early Decision, we took advantage of opportunities to apply Early Action to non-BSMD programs and regular decision to the remaining programs.
Extracurricular Development
As a future BSMD candidate, we knew that there were a number of different areas that we would need to help Randi develop:

We typically spend 1-2 years preparing students for their medical school interviews. In preparation for that, we have a number of books that we ask our BSMD candidates to read. We worked with Randi to help her plan out and monitor her ongoing progress in reading those books and discussed them with her.
We identified various research and shadowing opportunities for Randi to pursue and also navigated her through the steps to get the attention of physicians and researchers.
We identified EMS programs for Randi to pursue.
We encouraged Randi to pursue Spanish fluency through courses that she could not take at her school.
Overall, we helped Randi evaluate and prioritize her extracurricular activities. We helped her determine which activities to stop, activities to deepen, as well as new activities to take on. We also navigated her through the steps to immerse herself more deeply into her activities.
By the time we were commencing the application process, we had a very clear picture of Randi's personal brand and the story we were helping Randi to tell.
When we first started working with Randi, we began teaching her about the different kinds of essays that she would ultimately need to write both for her undergraduate applications as well as for BSMD programs. This process and the practice that she had helped her to hit the ground running when we started working on her actual application essays.
Personal Statement: We took Randi through a series of brainstorming exercises to generate topics that she would be excited to write about. We then discussed them from a strategic perspective.
When we walked Randi through our brainstorming exercises we intentionally asked her not to focus on the Common App essay prompts as we wanted her to think more broadly about the topics she could write about. We did not want to pigeon hole her thinking.
Because Randi was going to be applying to both undergraduate and BSMD programs, we advised Randi that her personal statement needed to avoid being too focused on medicine as she would have a number of other essays that she would need to craft where she would need to focus more heavily on her interests.
After all of Randi's brainstorming conversations with her counselor, and once she arrived at a topic, we helped her articulate the story she wanted to tell, the main ideas she wanted to communicate, as well as the structure and outline she should follow to help her organize her essay. Once Randi submitted her first draft of her essay, we reviewed it, made comments, but most importantly, asked questions designed to drive her to deeper levels of thought and greater self-reflection. We reviewed and edited 9 drafts of her personal statement.
Randi's supplemental essay process was very similar except that we helped her to interpret every prompt and how best to address the questions being asked. We worked on over 60 different essays approximating 240 different drafts.
Since many schools give students the opportunity to submit a resume, we helped Randi construct a resume and an activity list. We helped her with structure, sequencing of information, and how to phrase her activities to create energy and communicate her accomplishments.
We edited multiple drafts of both.
We worked with Randi to prepare her for two separate sets of interviews – her undergraduate interviews and her medical school interviews. While preparing Randi for her undergraduate interviews was relatively straightforward, we spent a number of months reviewing all the various questions she could be asked so that her responses would sound natural and unrehearsed.
For Randi's BSMD interviews we spent nearly 2 years preparing her for those by assigning multiple readings and then from meeting to meeting worked on different interview questions so that by the time she had her medical school interviews she was able to answer the questions at a significant level of depth and with the ability to parse her responses into the legal, ethical, moral, emotional considerations required to demonstrate her readiness for a BSMD program.
Letters of Recommendation
As soon as we started working with Randi, we began teaching her about the different skills and behaviors that would be required, both in and out of the classroom, that would be required to garner the most compelling letters of recommendation from her teachers and guidance counselor. Additionally, we worked with Randi to reinforce these skills and behaviors so that she incorporated them into her daily life in school.
When it came time to fill out questionnaires given to her guidance counselor and her teachers, we worked on several drafts in order to help her to craft and refine responses that would demonstrate her accomplishments while simultaneously revealing her character.
Application Process and Review
At the appropriate time, we advised Randi on how and when to submit her various test scores to her schools.
We navigated her through setting up her transcript and letter of recommendation requests in Naviance.
Lastly, before submitting any of her applications, we conducted a thorough review of each and every application to make sure that it was telling the right story and that there were no mistakes or missing information.