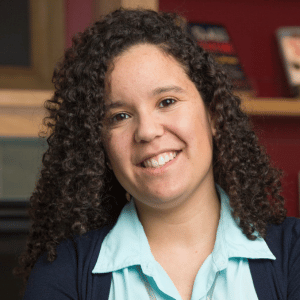 Geraldine is a graduate of Mount Holyoke College and Harvard. At Mount Holyoke, Geraldine majored in Sociology and minored in the Chinese language. While there, she also studied at Beijing Language and Culture University (北京语言大学) where she earned a Certificate in intermediate Chinese Language. At Harvard, Geraldine earned a Master's Degree in Education Policy and Management with a concentration in college admissions. Her research focused on the history of American colleges and how Ivy League and other selective colleges make admissions decisions in the United States. While in graduate school, Geraldine had the honor of studying under the tutelage of College administrators and admissions staff from some of the most selective colleges in the United States.
Prior to joining Princeton College Consulting, Geraldine worked in the classroom, in government, and at nonprofits, preparing some of New York City's brightest students for admissions to competitive colleges. She continues to mentor first-years, sophomores, and juniors as they determine who they are, what their narrative is, and how to best present this to colleges. Through meetings and a comprehensive writing process, Geraldine finds students' strengths and works to highlight this in their applications.
Having benefited from college counseling and mentoring herself, Geraldine's approach to counseling is rooted in mentorship and partnership: she follows students on their journey as they figure out who they are and helps them find the words that best describe that journey. Geraldine connects them with cost-effective outside-of-school opportunities that support their personal development and career goals. She also welcomes candid conversations on how to create college lists that lead to the best fit schools and how to pursue merit scholarships and financial aid—and guides parents and students in the negotiation of this aid.
With over 13 years preparing students for admissions, Geraldine has conducted 40+ mock interviews for undergraduate colleges, BSMD programs, and PhD/PsyDs, and provided support to hundreds of students on their resumes and in preparing for internships. She has worked with students from some of the country's top magnet and private schools, from New York to San Francisco, and uses her expertise in strategy to maximize outcomes for students surrounded by competition. Geraldine also has experience on working with students applying abroad and using the UCAS application for UK schools.
Until 2019, Geraldine served as an alumni interviewer for Mount Holyoke College. She remains an Alumni Admissions Ambassador at the Harvard Graduate School of Education and a mentor for undergraduates at the College. In her spare time, Geraldine enjoys yoga and meeting up with friends for a strong cup of coffee.
SKILLS: Time Management, Client Rapport, Data Analysis, Customer Success, Applicant Tracking Systems, Interviewing, Project Management, Stakeholder Management, Career Development, Communication, College Applications, Graduate School Applications, Coaching & Mentoring, College Counseling, Diversity & Inclusion, Educational Administration