How to Stand Out When Applying to STEM Programs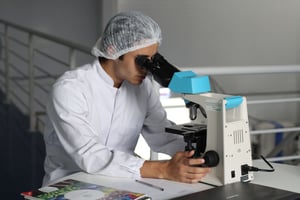 If it feels as though everyone around you is looking to be a STEM student, your feelings may not be entirely inaccurate. The demand for STEM degrees has risen, and students have responded accordingly. While not literally everyone is vying to get into the STEM field, numbers in recent years have soared. Since the Great Recession, the number of STEM students in bachelor's degrees and above has grown from 388,000 graduates in 2009-2010, to 550,000 in 2015-2016. That's a 43% growth, and it's projected to rise from there.
While this means great things for the industry itself, from a STEM college applicant perspective, you're in for some tough times. This growth in applicant pool across US universities means steeper competition. So, how do you stand out in a sea of STEM applicants?


Check the Right Academic Boxes, and More
It's not just about having good grades, it's about having good grades in the right courses. 78% of high school graduates don't meet benchmark readiness for one or more college courses. College admissions are not going to be swayed by a 4.0 GPA if all you did to achieve it was to play it safe with easy and irrelevant classes.
Work with experienced college counselors to map out what courses you'll need for the school year and beyond:
High school courses: Take the right math and science courses, with increasing difficulty each year.
Advanced Placement (AP): If your school offers them, take advantage of AP courses as it will help you further show proficiency in the subject. If not, you can self-study and take the exams through a third-party.
SAT Subject Tests: Top-tier colleges often strongly recommend students taking SAT subject tests. In our books, anything strongly recommended should be considered a must.
Nail Your Application Essay
This cannot be emphasized enough – START EARLY. A great application essay takes time to build, so give yourself time to create your masterpiece that does your personality and ability justice. Regardless of what topic you choose, know that it's not just about what you write, but how you write. A common pitfall amongst STEM applicants is in getting too technical with their essays and failing to showcase who they are as human beings.
If you choose to write on a STEM-related topic or experience, find a different angle. If you're going to talk about an activity you partook in, don't focus on the nitty-gritty. Instead, write about the drivers behind the activity, or perhaps what you took away from it. Or maybe, don't talk about STEM at all. If done effectively, other aspects of your application should already reflect your interest and ability in the field.
An alternate strategy here would be to use this as an opportunity to showcase your non-academic self. Write about a struggle you overcame and how it contributed to making you the person that you are today, or something about the world you hope to change and how you plan to get there. The point is, show them who you are, what you hope to get out your college experience, and why you'd fit in.


Build Up a Focused Extracurricular Resume
Your choice of extracurricular activities should be a reflection of your interests and goals – a development of your spike. Don't dabble in different areas to try to cover as much ground as possible. Instead, decide on a point of focus, and build on it. Show committees you have the potential to create deep impact within your field of choice someday as opposed to being mediocre in various areas.
Extracurricular activities within the STEM field may seem limited, but the possibilities are endless if you're willing to explore and think outside of the box. In addition to participating or holding leadership positions in relevant clubs, find ways to demonstrate genuine interest. Reach out to a teacher to mentor you in a research project done with your own initiative. Look out for local, national, or even international competitions to partake in to show that you're constantly challenging yourself. Go the extra mile and initiate your own niche clubs at school, or organize your own competitions to give other students the opportunity to pursue similar interests. Don't just limit yourself to traditional activities – the point is to stand out after all.


It goes without saying that outcomes of science, technology, engineering, and math will only become more pervasive in our everyday lives – and with that will come the proliferation of jobs within the industry. Getting into a top-tier college is your stepping stone to someday playing a role in driving innovation within the STEM field. However, given the soaring number of applicants annually, it will be no easy feat.
Start mapping out your application plan early so you're not pulling your hair out before deadlines trying to figure out ways grab committees' attention.