How to Dominate Your College Admissions Interview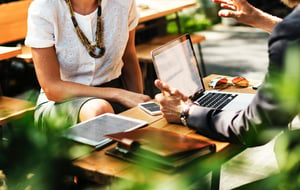 While your college admissions interview may not be the deciding factor, that's no reason to not take it seriously. This interview is your opportunity to showcase the side of you that the rest of your application cannot on paper.
Your interview gives you the chance to:
Share information about yourself beyond the application criteria

Showcase your personality and demonstrate good fit

Express interest in the college
Provide an explanation for anything less-than-ideal within your application
Get the know the college better
Think about it this way – while the interview isn't a make-or-break factor, if you nail it, that's one person on the deciding party vouching for you – which could potentially sway a committee more than good grades on paper. Here are our tips on how to dominate your college admissions interview.
What to Expect
Depending on the circumstances, it will be either be an in-person or Skype one-on-one interview. If you choose to go with a parent, he or she likely won't be in the room with you. It will be a semi-formal setting beginning with the usual formalities followed by the interviewer's questions for you. You will also have the opportunity to ask questions – you should take advantage of this to show genuine interest in the college. An important thing to note is that these interviews aren't designed to feel like interrogations. A great interview should feel like a good conversation.
Before the Interview
Do your research: Learn as much as possible about the college prior to your interview. Look through online resources as well as college forums to see what other candidates have said about their interview with that specific college. You'll also want to make sure your research covers the programs that you've expressed interest in on your application.
Review your application materials: The interview may reference material you've provided in your application. Don't be thrown off-guard by information that you yourself provided and be sure you can speak to it.
Prepare questions to ask: The interviewer interprets the questions you ask as indicators of your interest and engagement. Don't ask questions that a simple Google search can answer. Show that you've done your homework and that you're genuinely interested in learning more about the college.
Do practice runs: Practice makes perfect. Look into whether or not your school offers interview prep services and utilize them if they do. Even if they don't, you can always engage a counselor to run a mock interview with you. Alternatively, ask a family member or even friends to run some with you. Be sure to ask for and be open to honest feedback – and take something positive from each run.
The Interview Day
Dress appropriately: You don't need to go full formal, but you do want to strive for a good first impression – no, jeans and a t-shirt won't cut it. Dress conservatively, with a minimum of accessories, make-up, and any form of fragrance.
Get there early: Don't scramble – plan to arrive about 15 minutes early. Make sure you know where your interview is being held and how to get there ahead of time. If unsure, call in advance to ask. Showing up late due to road traffic is unacceptable.
Keep it conversational: Go beyond "yes" or "no" answers. Back up your answers with explanations. Don't answer as though you're memorizing from a script. Let your answers be natural and spontaneous. If the interviewer brings up negative points from your application, put a positive spin on it. Address them as challenges and demonstrate how you solved them.
Be confident, not cocky: Demonstrate that you're confident that you would be a good fit for the college, but don't oversell yourself. While you should definitely bring up accomplishments you're proud of, be careful not to go overboard. Let some of what you've done speak for itself. If certain achievements pique the interviewer's interest, he or she will have follow-up questions, where you can then expand on your experiences organically.
Don't overthink it: Calm your nerves. The interviewers are not out to get you, they're just trying to get to know you. You've worked hard to get there, so let that show through.
After the Interview
Send your interviewer a thank-you note promptly after. Reiterate your interest and make it known that you appreciated he or she taking the time to get to know you and to help you get to know the school a little bit better as well.
At the end of the day, these interviews are designed to get to know candidates beyond paper. Seize the opportunity and don't let your nerves get the better of you. Be confident, be prepared, and just be yourself. It's a get-to-know-you session, not an interrogation.